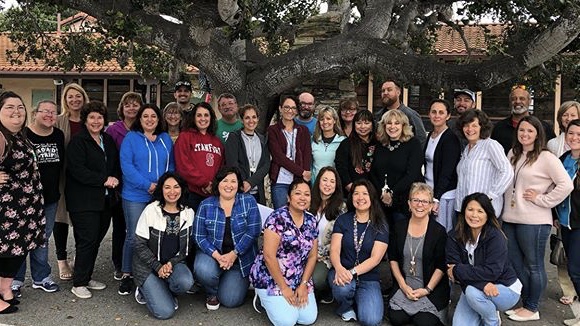 Principal's Message
Welcome to San Carlos School!
San Carlos School has enjoyed a long tradition of providing a high-quality Catholic education to parents seeking a safe, faith-based learning environment for their children. Established in 1898, San Carlos School is a ministry of San Carlos Cathedral and serves students throughout the Monterey Peninsula. We welcome culturally, economically, and religiously diverse families and are enriched by the diversity of our school community. Located in the heart of downtown Monterey next to the Royal Presidio Chapel, we share in the rich history that surrounds us by serving multiple generations of local families as well as first-generation families new to the area.
As a Catholic institution, we seek to prepare students to respond to modern challenges intellectually and spiritually by upholding high academic standards integrated with Gospel values. Our comprehensive curriculum promotes the development of problem solvers, critical thinkers, and confident leaders. Students develop interpersonal communication skills through collaborative learning groups and autonomy through the development of organizational and study skills necessary for success in high school and beyond. Students learn how to set personal goals, manage time, and balance their extracurricular activities.
The success of each student is enhanced by the schoolwide partnership between families, faculty, and Church. As we build a community of faith, all are welcome to participate in collective outreach in our local and global communities. Together, we model Gospel values, cultivate spiritual gifts, and provide students with opportunities to deepen their relationship with God through service, leadership, and reflection. San Carlos School is committed to the development of the whole child, as they flourish into academically successful, faith-filled, virtuous, compassionate, and conscientious stewards who respect all of creation.
I invite you to come and visit our campus to witness first-hand the welcoming atmosphere, academic rigor, and community involvement that has sustained San Carlos School for over 125 years!
Peace to all,
Mrs. Karen McKenzie